It's officially the month of love, so ladies, it's time to start planning your look for that special someone on February 14th. Will you be the lady in red? Perhaps you're going for the traditional little black dress? However you dress to impress, your hairstyle can truly make or break your look. But don't fear, we have been on the search for the hottest Valentine's Day hairstyles so you don't have to. Whatever your length, whatever your hair colour, we're sure you'll find one you love!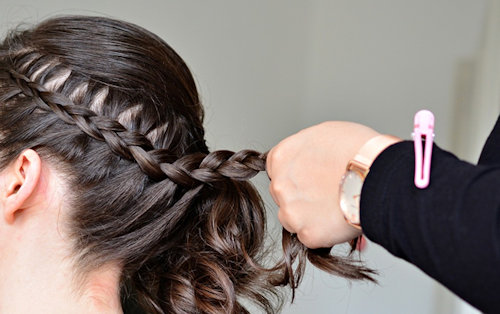 Fishtail Braid
This super cute hairstyle will make heads turn when you arrive at your date! A beautiful twist on the traditional plait, this hairstyle does requires long locks to fulfill its full beautiful potential.
How to:
Step 1 – Tie your hair in a ponytail and then split into two section
Step 2 – Grab the small section of hair from the underside of the right section
Step 3 – Pull this small section of hair over the large right section towards the middle of the two large sections
Step 4 – Connect the small section to the large left section and hold tight
Step 5 – Now grab a small section of hair from the underside of the left section, pull it over towards the middle and connect with the large right section
Step 6 – Keep alternating sides and repeating the process until you reach the bottom of your hair
Step 7 – Tie with a hairband and loosen the fishtail slightly for a more natural look
There you have it, 7 steps to a stunning hairstyle. Give it a go and rock your locks this Valentine's Day!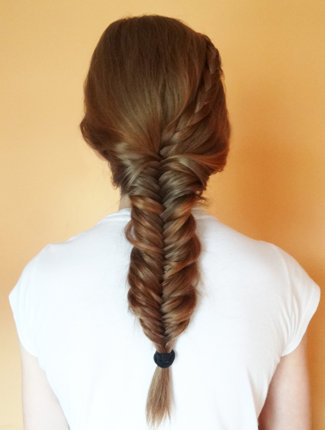 Top Knot
The more casual approach to hairstyling, if your Valentine's Day plans are throughout the whole day or just a lunchtime affair, this is the perfect hairstyle for you. Although this style works more easily on women with long hair, it is achievable for those who have mid to shoulder length hair too!
How to:
Step 1 – Pull the top half of your hair away from the rest of your head
Step 2 – Tie this hair into a messy bun with a hairband and secure with hair clips if necessary
Step 3 – To add that extra wow factor, add some beach waves to the the rest of your hair with a curler or tongs and spray with hairspray to set
That's it! Now go and show off your tousled waves and messy top knot to the world!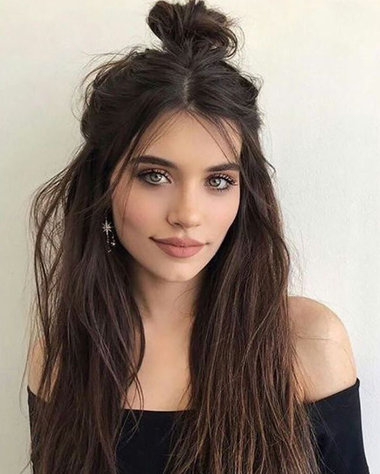 The Twist Hairdo
This awesome hairdo is perfect for ladies with shoulder length or shorter hair (but can also look great on long hair too) and it's oh so simply to create! If you're after a natural and elegant style on Valentine's Day, this hairstyle is a must.
How to:
Step 1- Part your hair down the middle
Step 2 – Pick up a section of hair from the front right (however large you want, but we would suggest around 3-inches) and comb
Step 3 – Twist the hair and pin at the back
Step 4 – Repeat the same on the left hand side
Step 5 – Hold the two twists in one hand and remove the clips with the other, and tie the two twists together with a hairband.
Voila! A cute and easy hairstyle for your date.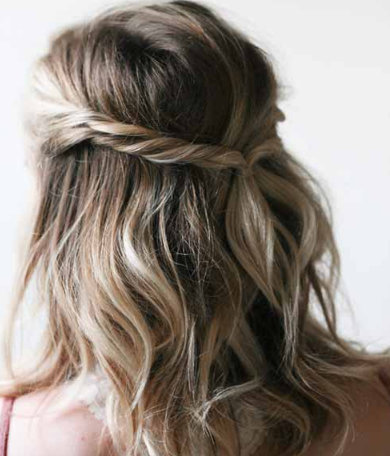 Triple Twist Buns
This might well be our favourite hairstyle yet, and can work on any length hair from shoulder onward! Flourishing with unique style, this trendy look will make you the star of the show on Valentine's Day.
How to:
Step 1 – Divide your hair into 3 equal sections and tie each into a low ponytail with a hairband.
Step 2 – Take the first ponytail and twist it around itself to form a small bun. Pin this into place with a hair slide
Step 3 – Repeat this with the remaining two ponytails
Step 4 – Spritz on some hairspray to keep your look in place
Who knew a gorgeous look could be made so easily? Give it a try and the results will speak for themselves!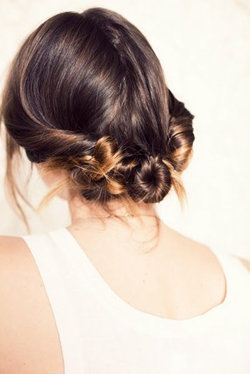 Extensions
If you're looking for some added volume, or want your locks to be long and full this Valentine's Day, extensions are a fantastic way to give you your dream look!
Here at Lucinda Ellery, we offer 3 different types of human hair extensions – Euro Grade, Brazilian Virgin and Russian Virgin – to give you the very best results. By matching them to your existing colour, no-one will believe that it isn't your real hair!
Book your FREE consultation to discuss how you can be everyone's hair goals this Valentine's Day by popping us a message on Facebook.
The Lucinda Ellery Team x